Additional products for agents
Boost your listings presence at OnTheMarket with one of our additional products.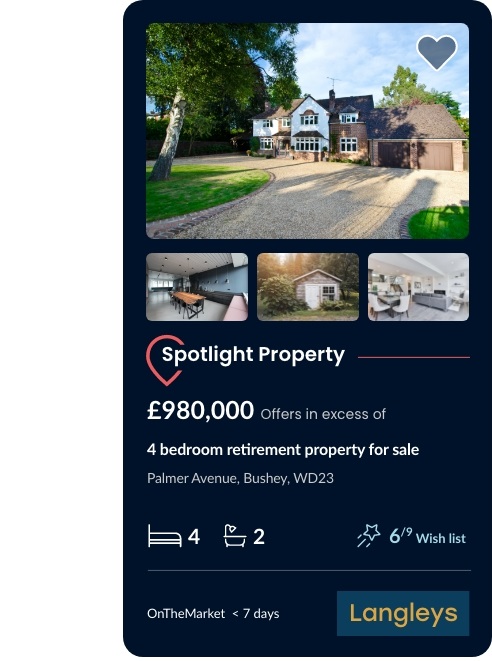 Spotlight Property
A Spotlight Property benefits from maximum stand-out with its bigger size, multi-image format and by appearing first in the results that match a given search.
Find out more
Email products@onthemarket.com or call our telesales team on 0808 120 2877. Lines are open Monday to Friday 9am – 5:30pm. Our team will be more than happy to help.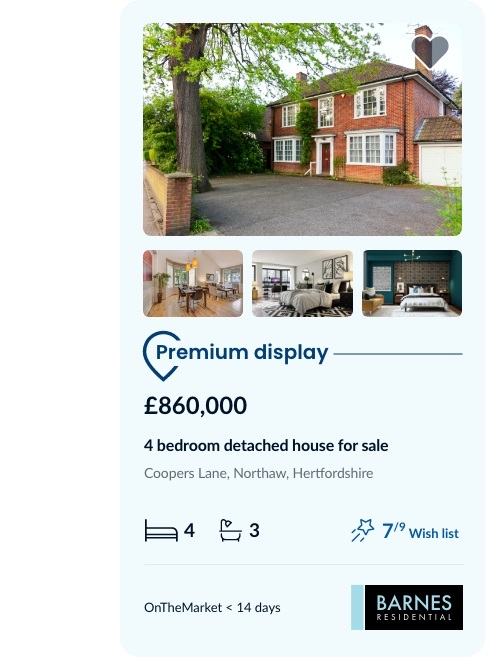 Premium Display
Premium Display listings allow you to target one of the key unique selling points of a property which is designed to generate more views of the full details page.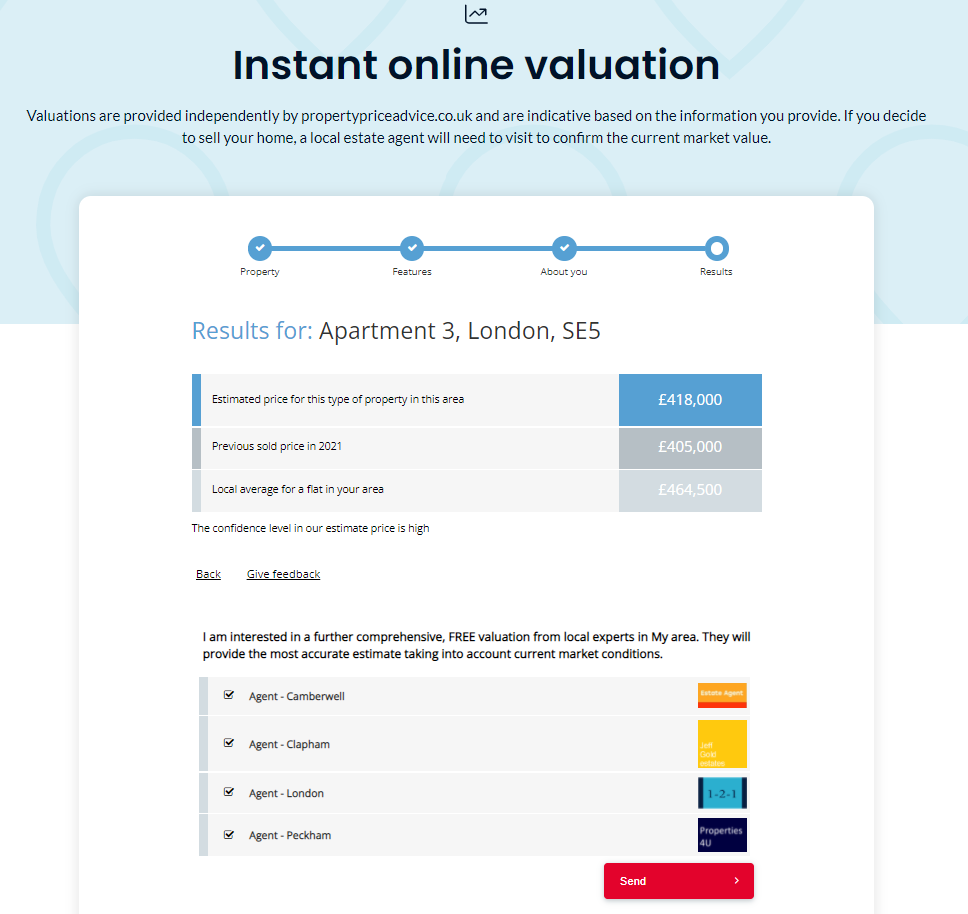 AVM Featured Agents
Branding opportunities are available within our Instant online valuation tool, which means that your brand can feature on the same page as the valuation result returned to the consumer.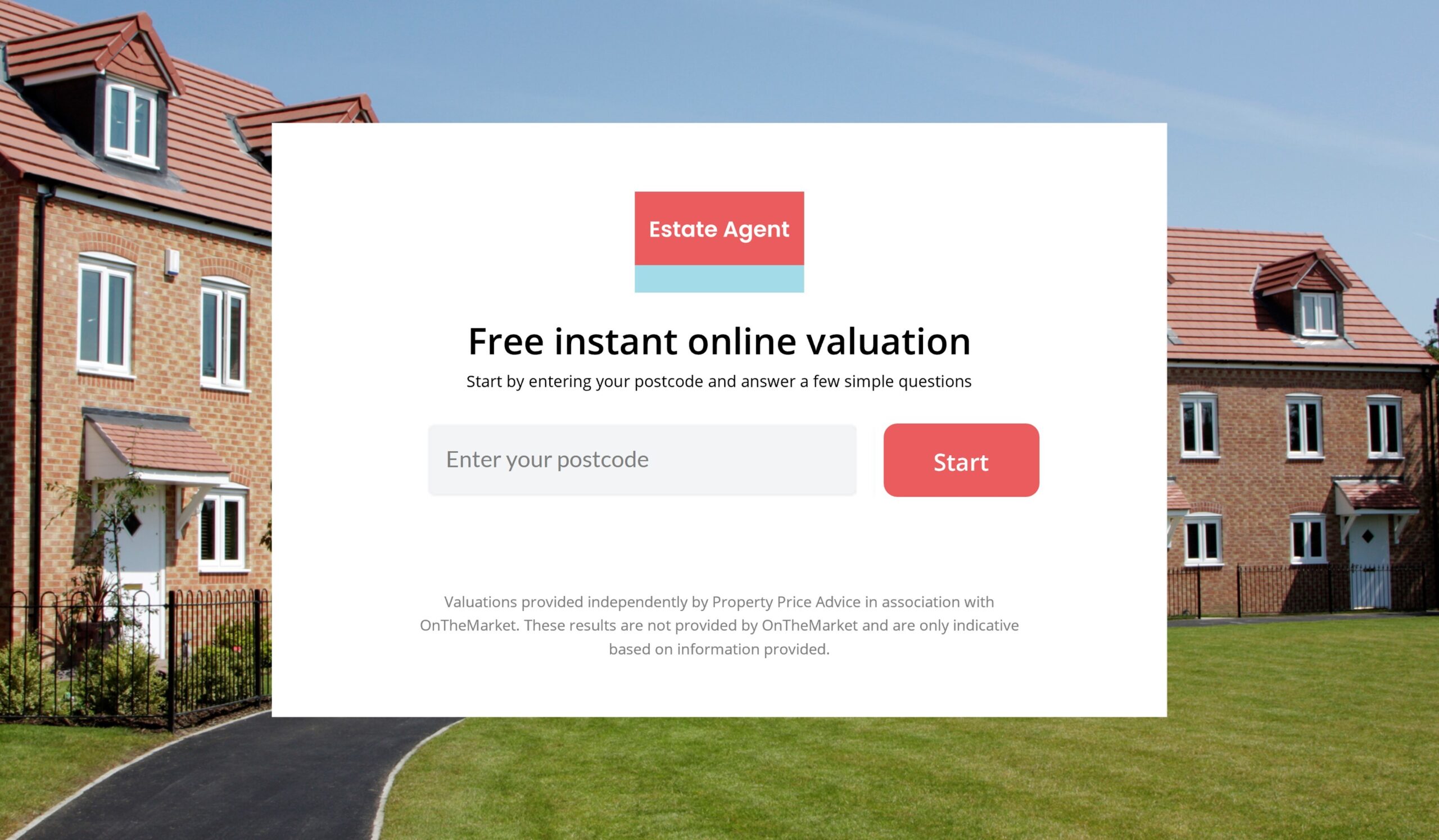 AgentVal
A free instant online valuation tool that is fully branded and easily integrated into your own website. Add our Automation Valuation Model (AVM) to your own website and personalise with your own branding. Capture prospective valuation leads to provide a richer consumer experience to your website. The user has the option to request a full agent valuation from that branch at the end of the instant valuation process.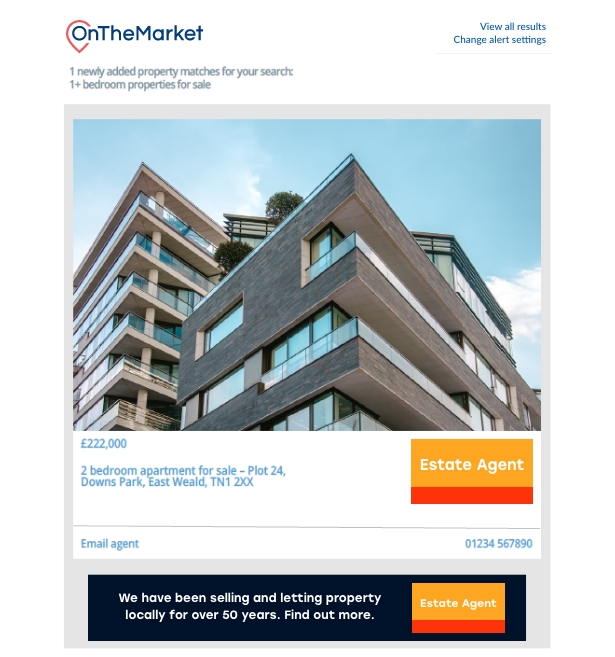 Property Alert Banners
A Property Alert Banner campaign allows you to showcase your brand and message to the most valuable and motivated audience of property-seekers who have registered to receive property alerts.
Local Area Banners
A Local Area Banner campaign can build your brand presence by advertising your business prominently in the local search results of your choice. This allows you to target home movers as well as current or prospective vendor and landlord clients in the market.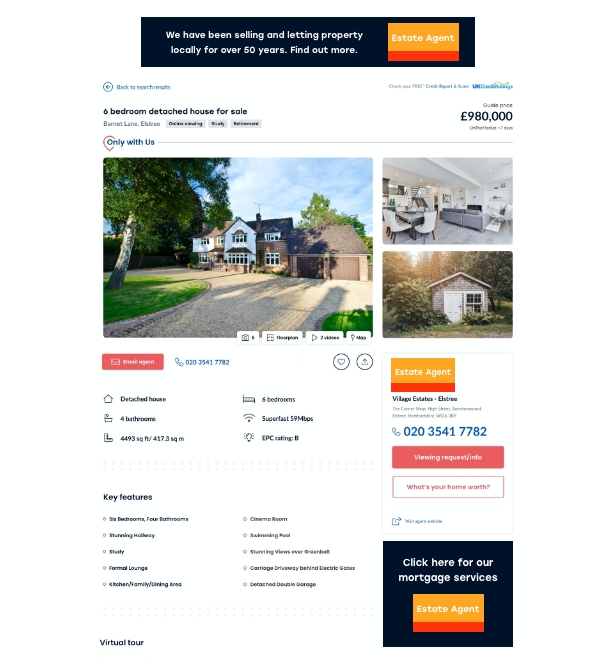 Activator/Mortgage Activator Package
The Activator Package allows you to add display advertising to your property full details pages, creating more opportunities and promoting your brand to potential buyers and renters.
The Mortgage Activator Package allows you to add display advertising and a mortgage link to your sales property full details pages, capturing potential buyers at the start of their search journey.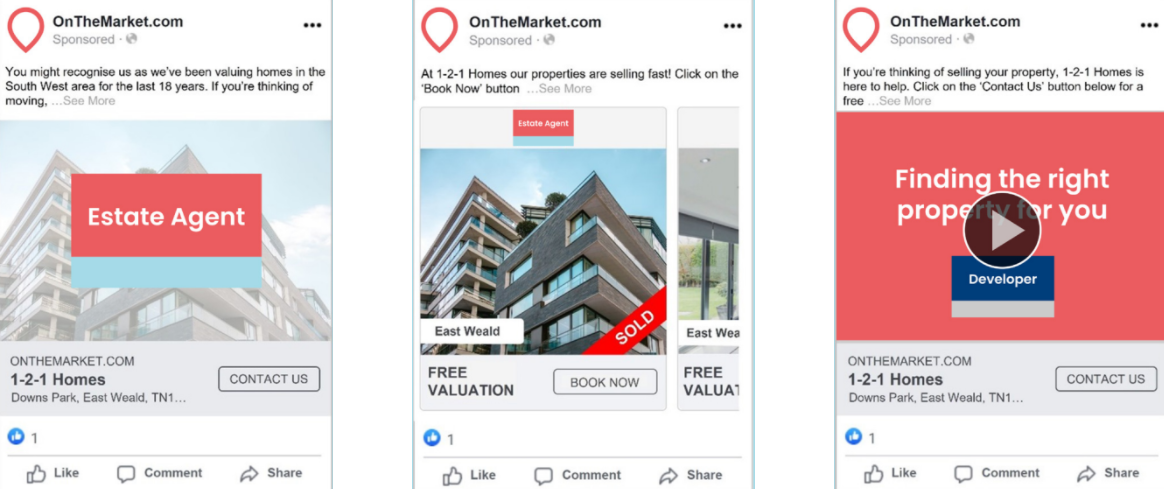 +impact
+impact is a paid social media service, which allows you to target potential property seekers with bespoke ads on Facebook and Instagram.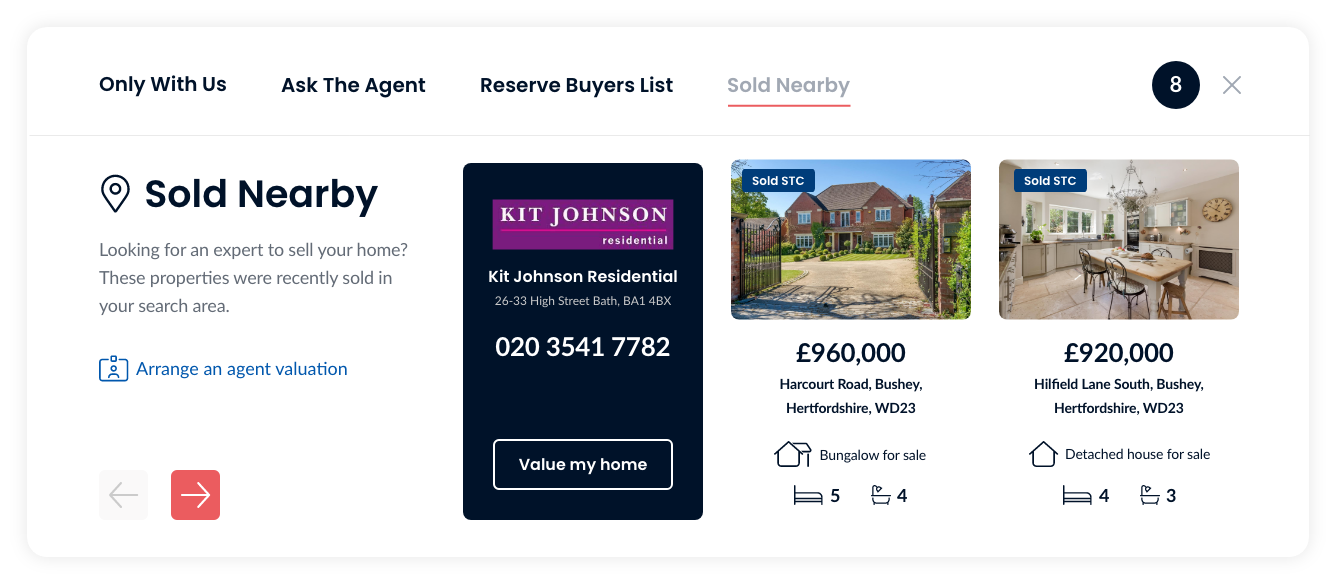 Sold Nearby
Sold Nearby gives you the opportunity to highlight your most recent success in local areas. Take advantage of this feature to target prospective vendors in a specific area who are already engaged in their property search journey.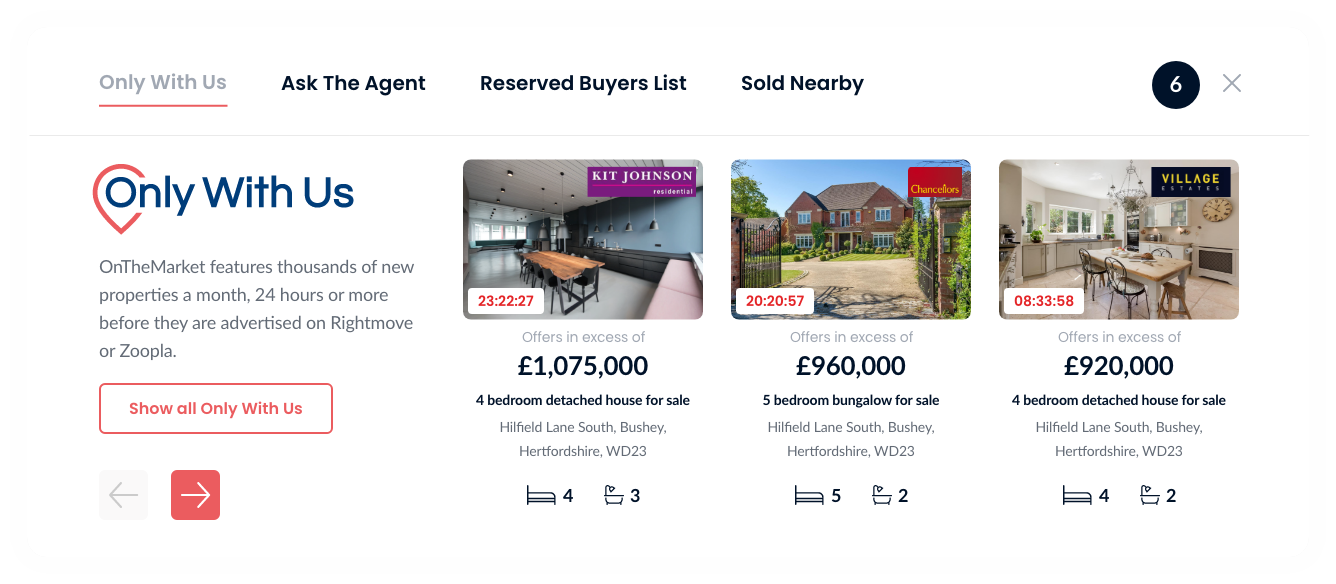 Support Only With Us
Only With Us listings generate on average TWICE
¹
 as many email leads in the first 24 hours compared with other standard new listings.
1. Uplift based on data for the period January 2021 - December 2021.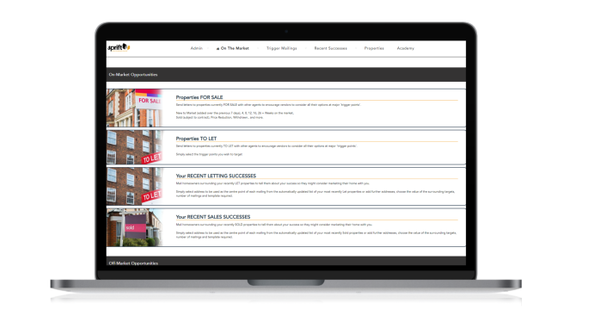 As part of your OnTheMarket membership, you can purchase exclusive* access to SmartMail powered by Sprift, the prospecting tool that can help you build your pipeline and win more listings with targeted campaigns and bespoke canvassing.
*SmartMail is available exclusively to OnTheMarket agents with the exception of a small number of agents who had prior access to the tool before the product partnership was in place.

OnTheMarket has partnered with Brickflow, the UK's first comparison site for development finance. This sector-first partnership will directly benefit our new homes customers, and allow agents to offer an additional service to their land departments or developer clients.
OnTheMarket customers who successfully refer leads for development finance to Brickflow will earn commission on the fees resulting from completed deals. This opportunity provides you with the potential to earn significant additional revenue.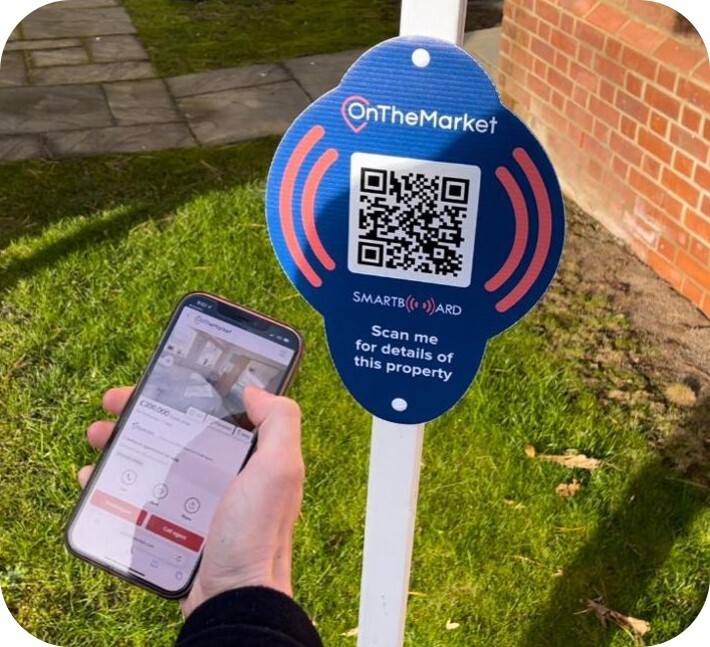 As an OnTheMarket agent you can now use Smartboards to generate more online views of your listings. The Smartboard slip is attached to a for sale board and contains a unique QR code. Anyone who passes by and scans it, will be directed to the relevant OnTheMarket property details page.
Please contact your local OnTheMarket Business Development Consultant for more information.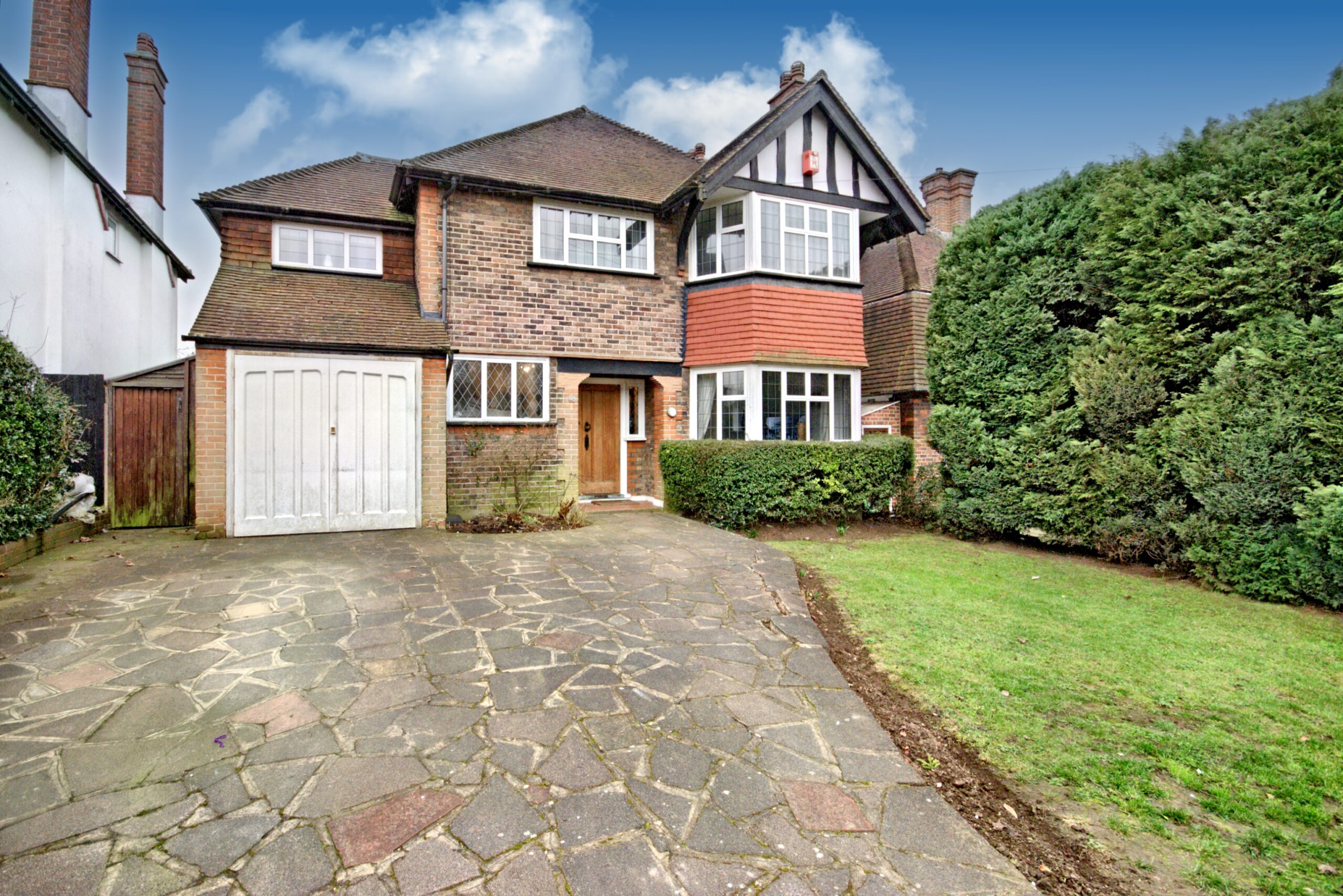 If you manually upload your properties to OnTheMarket, you can now benefit from a free photo retouching service through our partnership with Autoenhance.ai. Enhance your property images instantly and attract more attention to your listings.