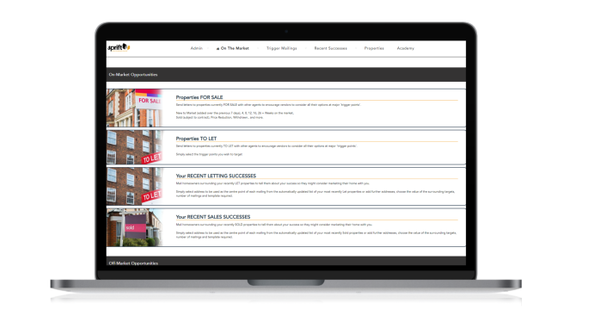 As part of your OnTheMarket membership, you can purchase exclusive* access to SmartMail powered by Sprift, the prospecting tool that can help you build your pipeline and win more listings with targeted campaigns and bespoke canvassing.
Multi-trigger mailings can be sent directly to specifically targeted properties whether they're listed with another agent or currently not on the market at all. By setting up specific triggers you can receive alerts of newly listed properties and send templated letters directly to those addresses or, you can target properties which have been listed with other agencies for a certain amount of time.
You can also use SmartMail to prospect individual properties, roads or catchment areas and filter by property type or value, depending on your individual applicants' requirements.
The letters which can be sent directly to properties are available in various templates and some such as the 'postcard' option can also be personalised with your messaging or branding.
*SmartMail is available exclusively to OnTheMarket agents with the exception of a small number of agents who had prior access to the tool before the product partnership was in place.
1. The product allows full access to the SmartMail product from which bespoke direct mailings can be created.
2. A monthly fee is charged to access this product.
3. Minimum term is 3 months upon which the contract becomes a rolling contract.
4. Targeted direct mailings can be created in the tool. Any additional printing and mailing costs will be given at the time the mailings are created, as prices differ for each template.
5. Additional printing and mailing costs will be invoiced directly by the printer.
6. If using the printer service, the agent agrees to the full terms and conditions of the printer which will be provided at the time of initial contract.
"Agents' Mutual Limited/OnTheMarket" (whose registered address is C/O Almond + Company Limited, 11 York Street, Manchester M2 2AW and whose registered number is 08381458) shall be referred to as "OnTheMarket".
The simple way to search for property to buy or rent.
Property professional website.
Investor relations, company website.
Investors and financial PR contacts